As part of the TEACHING GREEN initiative, we have prepared various challenges for individuals and groups to participate in. Each challenge proposes two activities in which you can participate according to your capabilities. You will learn more about climate change, its impacts on your environment and how you can mitigate these impacts by your own actions.
Join us and do something for your neighbourhood and yourself! And let us know how you're doing with the challenge – take a photo or video. We'd love you to share your experiences on the TEACHING GREEN INTERNATIONAL FB page or on Instagram @teaching.greenproject. And don't forget to use #teachinggreenchallenge. 
Each challenge comes with a motivational video to inspire you in your activities.
Fingers crossed as you complete the challenges and we look forward to seeing your social media posts.
We ourselves, from the TEACHING GREEN initiative, have also joined in the challenges by organising sporting (both indoors and outdoors, as it was raining outside) activities. If you want to know how it turned out, check out the video footage 😊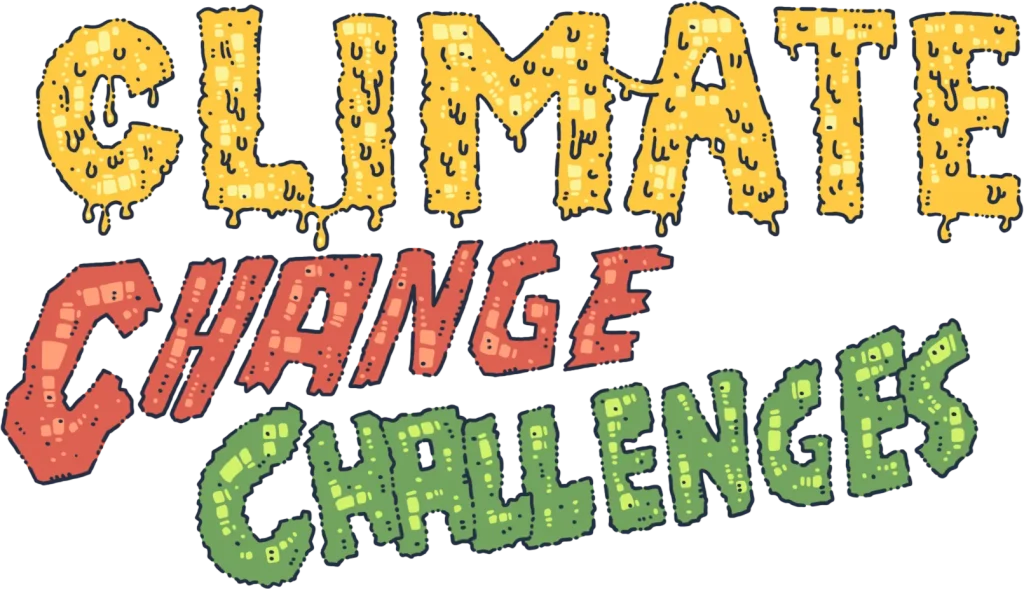 Reduce CO2 emissions from the production of your clothes!
Organize a clothing swap within your community.
You probably have clothes in your closet that are too small or that you haven't worn in a long time. Donate it to someone. At the same time, you too can get new clothes from someone else. Try to organize such a swap within your community. You will save a huge amount of carbon dioxide (CO2) that is produced by the textile industry and the transport of clothes.
Use old clothes and make something useful out of them (upcycling).


If the clothes are no longer suitable to donate, they can still be used. For example, you can make a bag out of an old T-shirt. You can also find lots of ideas on the internet.
You can find out more about how to take part in the challenge in the video below.
.
REMEMBER: BE YOURSELF! DON'T FOLLOW FAST FASHION.
Protect biodiversity and ecosystems in your neighbourhood!
Make a bird feeder or insect hotel from waste or natural material.


Especially in winter, bird feeders are proof that people are not indifferent to the fate of their little twittering friends – the birds. You will certainly find many ideas for their construction, from the simple to the more sophisticated.

Find out about the special protected plants growing in your area.
Adapting to climate change is also difficult for plants. They can't get up and move. Therefore, get to know the protected plants in your area and the conditions they need to grow. Let others know what makes them special! Ideally, you should also visit their habitat and check if anything is threatening them.
Find out more about how to take action in the challenge in the video below.
REMEMBER: MORE BIODIVERSITY, BETTER STABILITY.
Minimize car travel that affects both the climate and the acidity of the oceans!
Reduce your transport emissions by using alternative modes of transport for one week.

Map the means of transport you use to get to school. Use mapping portals or mobile apps to find out the mileage for each mode of transport used. Then use the data below to calculate your CO2 emissions. Make a commitment about how much you want to reduce your emissions and try to stick to it.

Trolleybus or tram – 42 G/KM
Electric car – 43 G/KM
Minibus – 55 G/KM
Motor train (Diesel) – 60 G/KM
Electric train, metro – 65 G/KM
Bus – 69 G/KM
Moped – 73 G/KM
Hybrid car – 84 G/KM
Motorbike – 94 G/KM
Smaller car – 110 G/KM
Medium car – 133 G/KM
Large passenger car – 183 G/KM



Analyze the acidity on water samples.


The chemical composition of ocean water is changed mainly by the absorption of carbon dioxide from the atmosphere. It is transport that is responsible for about a quarter of the European Union's total CO2 emissions (in 2019), with 71.7% coming from road transport. The EU aims to achieve a 90% reduction in greenhouse gas emissions from transport by 2050 compared to 1990 levels.

You can test how carbon dioxide changes the pH of water with a simple experiment. Measure the pH of conventional tap water. Then enrich this water with carbon dioxide (by making soda water) and repeat the measurement. Evaluate the result.
Find out more about how to do the challenge in the video below.
REMEMBER: ONE DEAD SEA IS ENOUGH!
Pay more attention to our allies in the climate crisis - trees!
Find the oldest tree in your area and calculate how much carbon dioxide emissions it has captured in its lifetime. 


Find the oldest tree or choose a tree in your neighborhood that you like. Make an advertisement for it and let others know how much carbon dioxide it captures each year and how much it has already captured in its lifetime. 

Plant a tree. But be careful to plant native species.


There is a process for planting a tree. So take the time to prepare thoroughly and remember to look after your tree afterwards.
You can find out more about how to proceed in the challenge in the video below.
REMEMBER: TREES MAKE THE CLIMATE MORE STABLE!
Urban greenery cools the space. Help expand it!
Most people live in cities. Compared to rural areas, cities tend to have higher temperatures in summer. This phenomenon, known as Urban Heat Island (UHI), contributes to warming at both local and global levels. While urban areas have a higher proportion of paved impermeable surfaces, rural areas are covered with grass, shrubs or forests. This vegetation helps to cool the air, while asphalt and concrete absorb heat, which is then radiated to the surrounding area. One of the most effective measures for reducing the temperature in cities is therefore planting greenery.
Plant shrubs, flowers, garden beds, lawns or trees to expand the green spaces in your city.

Educate the public about the importance of green spaces and parks in cities.


 
Learn more about how to participate in the challenge in the video below.
REMEMBER: TAKE YOUR CITY BACK TO GREEN!
Let's treat water with respect!
Water is a precious gift of nature that deserves our respect. Of the total amount of water on Earth, only 0.03% of it is drinkable (one teaspoon from a large bucket), and we often waste it. Our access to rainwater is also problematic. Our settlements have been built so that water runs off quickly, rather than remaining trapped in the ground to provide moisture.
Capture rainwater in containers, use it and save drinking water.


Map what activities waste drinking water in your home, change your habits and start saving more water.


 
Find out more about how to do the challenge in the video below.
REMEMBER: EVERY DROP COUNTS!
Wasting food doesn't just mean wasting money!
Food waste has a negative impact on the environment. Food that is thrown away often ends up in landfills, where it can decompose and release greenhouse gases that contribute to global warming. We can all help to minimise food waste. For example, by buying only what we really need and using any leftovers to prepare meals, donating them to charities or composting them.
Compile recipes using a variety of food scraps that would otherwise end up in the bin.


 

Support local producers and cook a meal using local food.


 
Learn more about how to take the challenge in the video below.
REMEMBER: THINK WITH YOUR BRAIN, NOT WITH YOUR STOMACH!
Find out the rising surface or soil temperature!
Rising global temperatures are also affecting our local climate. This is manifested, for example, by increasing the temperature and acidity of surface waters, as well as increasing the temperature of soils and various surfaces, which can have a negative impact on plant growth and animal life living underground.
For one week, measure the soil temperature every day at a selected location and evaluate your data.

During a sunny day, compare the temperatures of different surfaces (asphalt, grass, …) that are exposed to sunlight and those that are in the shade!
Learn more about how to proceed in the challenge in the video below.
REMEMBER: HOT PLACES ARE NOT "COOL"!
Let's prepare cities for climate change!
The last challenge requires the involvement of the local community and, ideally, local government representatives. Together you can find solutions to better adapt to climate change. Solutions can include expanding green spaces, green roofs, vertical greenery on buildings, retaining rainwater, creating dry polders into which rainwater can be diverted, installing drinking fountains and air coolers, improving infrastructure for cyclists, or installing sunshades.
Take local government representatives for a walk and show them places that could be improved. Offer specific ideas.


 

Organize a cultural or sporting event whose main goal is to inform others about the ongoing climate change.


 
Find out more about how to proceed in the challenge in the video below.
REMEMBER: THINK GREEN, STAY CLEAN (HEALTHY)!